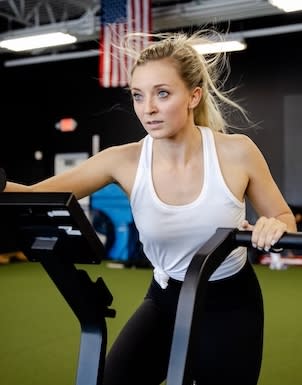 Sydne Abrahamson
Meet Sydne, the awesome personal trainer with a big heart! She's certified by NASM, and guess what? Her superpower is helping people make their lives better – not just physically, but mentally and nutritionally too!
Back in college, Sydne was a softball star, but it wasn't just about the game for her. That's when she discovered her love for fitness and staying healthy. Now, with 6 whole years of experience in the fitness world, she's here to share her wisdom and passion with her community.
Sydne works magic by creating special programs just for you! These programs are like secret codes to success, based on science and customized to fit your goals. Whether you're young or young at heart, Sydne's got your back. She knows all about strength, sports, cardio, and even throws in some balance, flexibility, and mobility tricks!
What does she love most? Seeing her clients rock positive changes in their lives! So, if you're ready to join Team Sydne and embark on a journey to a healthier, happier you, get ready for the adventure of a lifetime!
Specializations:
NASM certified personal trainer
Sport-Specific Training
PN1 Exercise Nutrition Certified